Outlaw 2 Tire - 29.5X11X14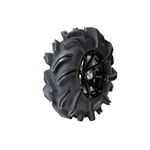 Outlaw 2 Tire - 29.5X11X14
Size: 29.5x11x14

A champion isn't built in a day and neither was the new 29.5 Outlaw2 from High Lifter Products. High Lifter took its best tire and put it on steroids to create the newest tire in their line of Premium All Terrain ATV tires. At 29.5" tall, with a full tread wrap to the rim, the 29.5 Outlaw2 is the new champion in the mud tire arena. The High Lifter team drew from over 10 years of research and development to improve on its first mud tire – the Outlaw. The result was a tire with a robust feature package:

· Full side wall tread to increase traction in deep ruts!
· Scooped treads to maximize pulling, digging and paddling through deep mud and water.
· Impressive tread depth of 1 5/8" in the center increasing to 2 ¾" at the shoulder.
· Wider lugs to increase surface contact.
· A flatter profile for a smoother ride.
CALL FOR SHIPPING PRICE 337378 7186
The team upped the ante with the 29.5 Outlaw2 and designed a tread that wraps all the way to the rim. The added sidewall tread substantially increases traction in deep ruts and is an exclusive feature to the Outlaw2. Additionally, the cupped treads improve traction in thick mud and essentially paddle through deep water.

The new 29.5 Outlaw2 builds upon its tractor-tire heritage with a center tread depth of 1 5/8" and a cupped tread wrap 2 ¾" tall at the shoulder. The result is a rugged mud tire that continuously pulls and cleans with every revolution.
Reviews