High Lifter Signature Series 4" Lift Kit for Polaris Ranger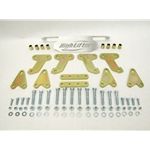 High Lifter Signature Series 4" Lift Kit for Polaris Ranger
2016 Polaris Ranger 570 Full Size XP
2016 Polaris Ranger 900 XP
2016 Polaris Ranger 1000 DSL
2016 Polaris Ranger 900 XP High Lifter Edition
2016 Polaris Ranger 900-5 Crew EPS
2016 Polaris Ranger 900-6 Crew EPS
2016 Polaris Ranger 1000 DSL Crew
2013 Polaris Ranger 900 XP
2014 Polaris Ranger 900 XP
2014 Polaris Ranger 900 Crew
2015 Polaris Ranger 570 Full Size
2015 Polaris Ranger 570 Crew Full Size
2015 Polaris Ranger 570 Crew Full Size EPS
2015 Polaris Ranger 900 XP
2015 Polaris Ranger 900 XP EPS
2015 Polaris Ranger 900 Crew
2015 Polaris Ranger 900 CREW EPS
2015 Polaris Ranger 1000 DSL
2015 Polaris Ranger 1000 DSL Crew
2017 Polaris Ranger 1000
2017 Polaris Ranger 1000 Crew
2017 Polaris Ranger 1000 Crew EPS
2017 Polaris Ranger 1000 Crew High Lifter Edition
2017 Polaris Ranger 1000 EPS
2017 Polaris Ranger 1000 High Lifter Edition
2017 Polaris Ranger 900
2017 Polaris Ranger 900 Crew
2017 Polaris Ranger 900 Crew EPS
2017 Polaris Ranger 900 EPS
2017 Polaris Ranger DSL
2017 Polaris Ranger DSL Crew
2018 Polaris Ranger DSL
2018 Polaris Ranger DSL Crew
2018 Polaris Ranger 900 XP
2018 Polaris Ranger 900 Crew
2018 Polaris Ranger 1000 Crew
2018 Polaris Ranger 1000 High Lifter Edition
2018 Polaris Ranger 1000 High Lifter Edition Crew

Bigger. Badder. BOLDER. Take your ATV to the edge with High Lifter's 4" Signature Series Lift Kit. Increase your ground clearance and make room for larger tires to dig deep and ride hard in most any terrain. Our engineers and staff have spent over 20 years perfecting the ultimate ATV lift kit. The product? An easy-to-install, bolt-on lift that consistently measures truer over competitor products.
The High Lifter 4" Lift Kit relocates the shock mounts to provide additional lift making room for larger tires and tightens suspension. Each Lift Kit part is precision cut and zinc plated for durability and reliability in any environment.
4" Lift Kit Features:
- All hardware needed for successful installation
- User-friendly instructions
- Bolt-on application; takes approximately 1-2 hours for install
- Zinc plated
- Front and rear lift
- Clear-coated High Lifter name plate
High Lifter's Steering Stops (
RANGER-SSK
) are a must-have for Ranger Lift Kit owners. The Steering Stops helps reduce the turn radius and can help prevent breaking an axle.
This lift kit will not fit any 2016 570 XP Full Size Ranger with front strut suspension. This lift kit will not fit Polaris Ranger Northstar Editions.

If you have a Polaris Ranger High Lifter Edition you must purchase quantity 2 of HLA-RNG-3-F for this lift kit to work.

1.5" spacers are required in the rear if you are running factory 900 Ranger steel wheels.
Tire Fitment:
Polaris900 Ranger XP - Up to 27"
Polaris 900 Ranger Crew - Up to 27"
Our stated tire fitment guide is a general fitment and is in no way guaranteed. Tires and lifts vary by manufacture and tire fitment can be affected by other modifications. Always verify your brand of tires, lift, and other modifications prior to making a buying decision.

Reviews