Polaris Sprague Carrier / Front Roller Cage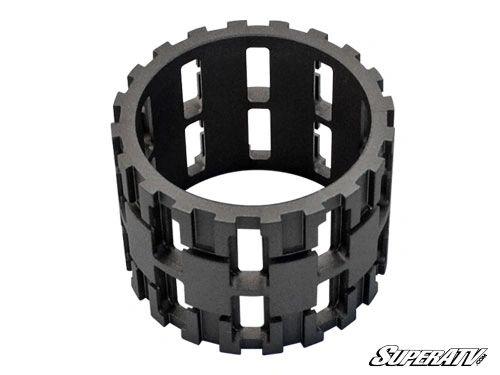 Polaris Sprague Carrier / Front Roller Cage
FREE SHIPPING IN THE U.S. Polaris HARDENED Aluminum Sprague Carrier / Front Roller Cage

Now there is a solution for your front differential roller cage always breaking – a SuperATV Sprague Carrier. This part was made for those who would rather be riding than working on their machines! Whether you are replacing this from experience or preventing future break downs, this is the one modification that will be well worth the time and effort.
This part is the first part that breaks in a front differential when using a stock plastic part. The SuperATV Sprague Carrier is constructed of Heavy Duty 6061 Hardened Aluminum and can withstand any torture you can throw at it. Comes with a LIFETIME WARRANTY.


ARC-P-002
OEM Part Numbers
3233949, 3234167, 3234103, 3234455
Will Fit:
ATP 330 : 2004-2005
ATP 500 : 2004-2005
EV-LSV : 2010
Magnum 330 : 2003-2006
Magnum 500 : 2002
MV7 : 2005
MVRS 700 4x4 : 2010
MVRS 700 4x4/IDF Uplift/IDF Winch Uplift : 2008
MVRS 800 4x4 : 2008
Ranger 4X4, 6X6 : Series 10, Series 11
Ranger 4X4, 6X6 : 2004-2005
Ranger 4x4 500 : 2006-2008
Ranger 4x4 700 / XP : 2006, 2008
Ranger 4x4 700 : 2007
Ranger 4x4 700 Crew : 2008-2009
Ranger 4x4/6x6 : 2004-2005
Ranger 500 6x6 : Series 10
Ranger 6x6 700 : 2006-2009
Ranger XP : 2005
Ranger XP 700 : 2008
Sportsman 400 : 2004-2005
Sportsman 450 : 2006
Sportsman 500 : 2004-2006
Sportsman 600 : 2003-2005
Sportsman 700 : 2002-2006
Sportsman 700 Military : 2004
Sportsman 800 EFI : 2005-2006


Reviews