Kawasaki Brute Force 750 4x4i Triangle ATV Snorkel Riser Kit for Kawasaki Brute Force 750i (05-14)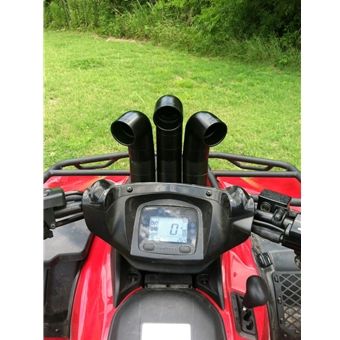 Kawasaki Brute Force 750 4x4i Triangle ATV Snorkel Riser Kit for Kawasaki Brute Force 750i (05-14)
APPLICATIONS:
Kawasaki Brute Force 750i (05-14)
The original "Snorkit" was introduced in 2002 and debuted at the High Lifter Mud Nationals in 2003. Triangle ATV is active in the sport of ATV's and is known as the leader of deep water ATV enthusiasts.
Keep in mind that a snorkel kit that is incorrectly installed can do MAJOR damage to your ATV and there are NO RETURNS on snorkel kits. Once you purchase a snorkel kit, you own it. However, the snorkel kit that you are looking at was designed by professionals and has been tested over and over to insure its durability and workmanship. If installed correctly, a snorkel kit can greatly enhance your riding experience.
Product Features:
- All "Snorkit" models are thoroughly researched and tested.
- All necessary drain plugs, hoses, fittings and video instruction to install drains on models which do not incorporate factory drains at vital locations
- All necessary vent bellows to allow for air expansion and contraction while keeping the ATV's vent systems water tight.
- All necessary check valves and tubing necessary to allow fuel overflow and venting of the ATV's fuel system while keeping it water tight.
- Crankcase vent reroute system to help prevent water intrusion into engine oil (milking).
- All items necessary to help protect vital electrical components on the ATV and detailed video instructions showing how to apply them.
- Custom metal mounting brackets for "Snorkit" risers are designed to maintain a clean factory appearance by following body lines and contours on each model while providing solid mounting for riser pipes.
- The "Snorkit" usually requires no re-jetting and causes no loss of power.
Reviews