Diver Down Riser Snorkel for Polaris RZR 800 "S" (11-13)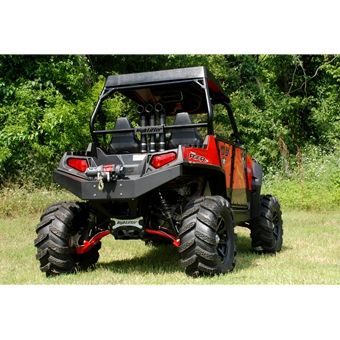 Diver Down Riser Snorkel for Polaris RZR 800 "S" (11-13)
Diver Down Riser Snorkel for Polaris RZR 800 "S" (11-13) fits the following vehicle(s):
2011 Polaris RZR 800 S
2012 Polaris RZR 800 S
2013 Polaris RZR 800 S
2014 Polaris RZR 800 S
DOES NOT FIT any RZR "S" 4 seater or 2009-2010 RZR "S" models.
Our complete snorkel kits contain everything you need to properly snorkel your ride. Each kit comes complete with photo instructions to help you every step of the way.
This snorkel kit is intended to provide clean, dry air to the engine and other parts needing venting on ATVs/UTVs, but does not necessarily mean the ATV/UTV can exceed the OE manufacturer's stated maximum rated water line depth. The snorkel kit is intended only as an additional margin of protection in the event that the ATV/UTV is inadvertently driven into water deeper than the OE manufacturer's air intakes will tolerate. There are many considerations to make when increasing water line depth and a snorkel is just one component.
Additionally, this kit comes with differential bellows that allow the differential to breath without have to run long vent lines that can easily get plugged up with mud.
This kit includes:
- 2" pipes and fittings
- Rubber grommets
- Vinyl Tubing
- High Heat Silicon Hose
- Differential Bellows
- Riser Bracket powder-coated in black
- All hardware for installation
- Step-by-step instructions complete with pictures
Fits:
Polaris RZR 800 "S" 2 seater (11-13)
Reviews