Can-Am Maverick 1000 High Lifter Signature Series 4" Lift Kit for Can-Am Maverick 1000 (14-15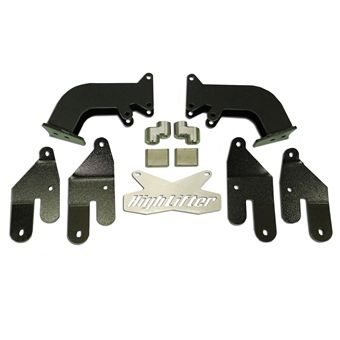 Can-Am Maverick 1000 High Lifter Signature Series 4" Lift Kit for Can-Am Maverick 1000 (14-15
Fits:
Can-Am Maverick 1000 XRS & XRS-DPS (14-15)
Can-Am Maverick 1000 STD (14-15)
Bigger. Badder. BOLDER. Take your ATV to the edge with High Lifter's 4" Signature Series Lift Kit. Increase your ground clearance and make room for larger tires to dig deep and ride hard in most any terrain. Our engineers and staff have spent over 15 years perfecting the ultimate ATV lift kit. The product? The Signature Series Lift Kit is even easier to install with a bolt-on application that consistently measures truer over competitor products.
Our 4" Signature Series Lift Kit for the Can-Am Maverick 1000 takes UTV lift kits to a new level of strength and durability. The front lift brackets are precision welded from ¼" American-made steel, while the rear plates are crafted from 3/8" American-made steel. Each part in the kit is precision CNC laser cut, CNC bent, and CNC machined – a guarantee that your kit will fit just like our engineers designed it to be.
In addition to the heavy-duty steel used in our brackets, our research and development team crafted new offset sway bar linkage that allows us to achieve additional lift without removing the sway bar. When combined with the heavy duty heims on the offset sway bar link, we're able to achieve a 4" lift using stock axles – something the competitors cannot do!
No other lift kit on the market can match the robust and rugged design of the Signature Series Lift Kit!
4" Signature Series Lift Kit Features:
· All hardware needed for successful installation
· High Lifter logo precision laser cut into each kit
· User-friendly instructions
· Bolt-on application; takes approximately 1-2 hours for install
· Powder-coated and plated for durability
· Front and rear lift
Tire Fitment:
Can-Am Maverick 1000 STD & XRS - Up to 35"
Our stated tire fitment guide is a general fitment and is in no way guaranteed. Tires and lifts vary by manufacture and tire fitment can be affected by other modifications. Always verify your brand of tires, lift, and other modifications prior to making a buying decision.


Reviews